Telling the Belmont Story
The Paper
Text
100 lb Accent Opaque Cover
100 lb Accent Opaque Text
Image
Image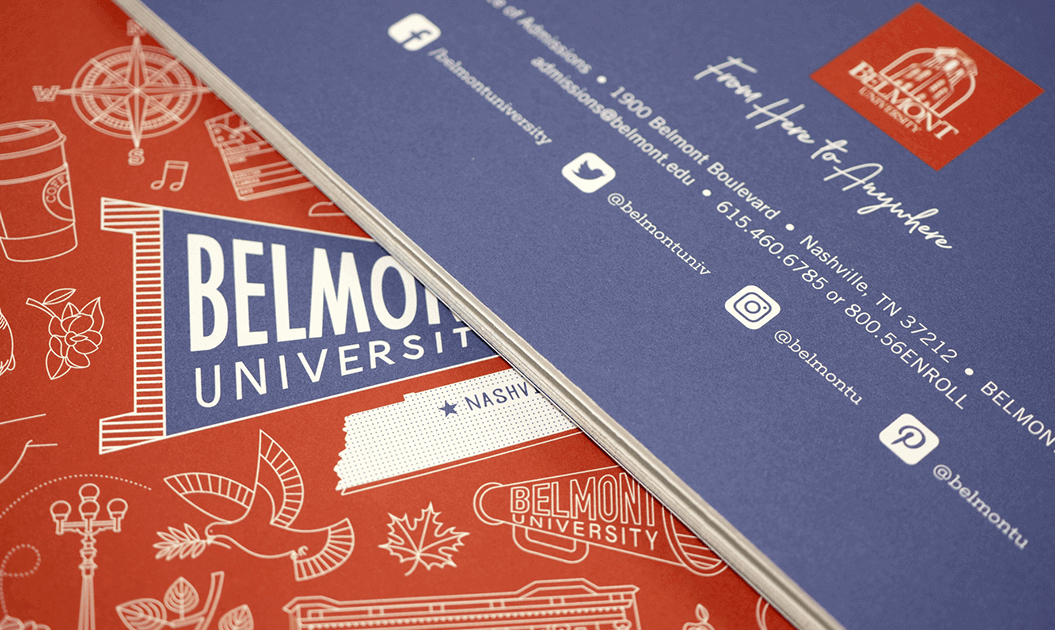 The Overview
Communicating to Stand Out
Description
Belmont University in Nashville, Tennessee, is a one-of-a-kind place, where rigorous academics and creativity intersect and where students are welcomed into a true community. To effectively communicate what being a student at Belmont is like, Belmont Admissions set out to create a suite of materials to send to prospective students. Designed by an in-house marketing team, the goal was to authentically showcase what makes Belmont Belmont.
Image
Image
The Details
A Distinct Style for a Unique University
Description
The central piece in Belmont's collection of high-end collateral is a view book designed for high school seniors. The view book demonstrates Belmont's creative style and includes custom illustrations, die cuts and fold-out pages. Its distinct look is applied across more than 60 different pieces within the cohesive set, which ranges from booklets and folders to stickers, postcards, flyers and invitations.
Image
Image
The Results
Setting Belmont Apart
Description
Belmont's marketing collateral successfully communicates what it's like to be a part of the Belmont community through custom illustrations and beautiful photography. The set also helps to distinguish Belmont from other colleges and universities, with many students commenting on how much they enjoyed receiving and interacting with Belmont's unique materials.