Hero
Image
Image
Digital Treated
Content
Indigo Treated: Overview
Body
Accent® Opaque's Indigo Treated Digital papers are specially formulated to run on HP® Indigo presses. Rochester Institute of Technology, an independent testing facility for HP Inc., has certified these Indigo-Treated Digital Text and Cover sheets with 3 stars based on their simple 3-star rating system. These sheets are perfect for merchants, graphic designers and commercial printers looking to impress with their booklets, catalogs, manuals, brochures, direct mail, financial documents, reports, posters, flyers, sell sheets, invitations, greeting cards, menus, tent cards, marketing materials and more.
9 basis weights: (50, 60, 70, 80 and 100 lb. Text; 65, 80, 100 and 120 lb. Cover)
2 finishes (Smooth and Super Smooth)
Available in short and long grain
Available in 12 x 18, 13 x 19 and 29.5 x 20.8125
Available in high 97 brightness
Available in both cartons and skids
Acid-free for added archival quality that extends the life of the document
Electronic Imaging Guaranteed for Digital Text and Cover items
Guaranteed to run on HP® Indigo presses
Stock sheets are Forest Stewardship Council® (FSC®) certified
Indigo Treated: Features/Benefits
Body
High brightness and preferred Blue-White shade provides excellent print contrast for intense whites and subtle tone variations for dark colors
Smooth, level printing surface leads to crisp, vivid images and consistent production with proper ink hold out and quick-drying characteristics
Excellent opacity for minimal show-through
Use 3-star Super Smooth finish to take your high-end or image-heavy materials to a level beyond smooth
Excellent ink adhesion (3-star rated products benefit from >= 90% adhesion)
Consistent paper performance through the press (3-star rated products benefit from no paper jams)
Highly compatible with Indigo Printing Blanket, so few cleaner sheets are needed (3-star rated products clean after second cleaner sheet)
ImageLok is a registered trademark and Dyemond is a trademark of Sylvamo. HP and Indigo are registered trademarks of HP Inc.
Image
Image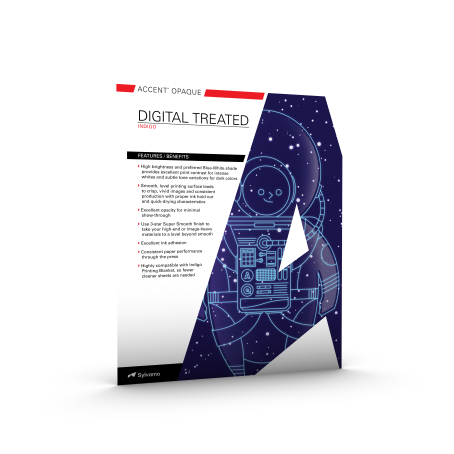 Accent Opaque Indigo Sell Sheet

Description

Accent Opaque Indigo Sell Sheet

Download PDF
Inkjet Treated: Overview
Body
Accent® Opaque's specially formulated Digital Inkjet papers are available with ImageLok® or Dyemond™ Technology and designed for both pigment and dye-based roll and sheet-fed presses. These treated papers are ideal for high-speed book publishing, on-demand books, direct mail, catalogs, financial documents, equipment manuals, reports, brochures, legal documents and more.
Available in 9 basis weights (45, 50, 60, 70, 80, 100, 110, 129 and 144 lb.)
2 finishes (Smooth and Super Smooth)
High 97 Brightness* and preferred Blue-White shade
Available in both rolls and cartons
Accent Opaque RPC 7 pt. and 9 pt. are USPS guaranteed
Acid-free for added archival quality that extends the life of the document
Electronic Imaging Guaranteed for Digital Inkjet items
Guaranteed to run on high-speed digital inkjet presses
Stock sheets are Forest Stewardship Council® (FSC®) certified and rolls are Sustainable Forestry Initiative® (SFI®) certified
Inkjet Treated: Features/Benefits
Body
Brilliant color normally associated with coated sheets, but with the look and feel of a more desirable, uncoated paper
Excellent print quality on high-speed production inkjet presses
Proprietary technology provides crisp, vivid images and graphics: colors will pop, skin tones show more truly and blacks gain greater boldness
Consistent performance on press and reduction in ink usage
Guaranteed paper performance in roll-to-roll and roll-to-sheet allows customers to use a single paper grade
*For ImageLok® items only; Dyemond™ Technology is 96 Bright